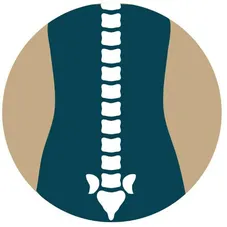 Back Pain
Walking upright on two feet has advantages, but it also puts intense pressure on the spine, as well as on other muscles and bones. Add to this improper sitting, lifting, or reaching—and the normal wear and tear of working and playing—and you have the perfect recipe for back pain. That's why back pain is the 2nd most common reason for visits to the doctor's office, outnumbered only by upper-respiratory infections. In fact, some experts say, as many as 80% of us will experience a back problem at some time in our lives.
Back injuries are a part of everyday life. They can cause a sharp pain or a dull ache and can be accompanied by a tingling, numbness, or burning sensation. You may also feel weakness, pain, or tingling in your pelvis and upper leg—a condition known as sciatica. The spine is quite good at dealing with back injuries. Minor injuries usually heal within a day or 2. Some pain, however, continues. What makes it last longer is not entirely understood, but researchers suspect that stress, mood changes, and the fear of further injury may prevent patients from being active and exacerbate the pain.
Chiropractic Treatment for Back Pain
If you experience back pain, consult with our office. More than 30 million Americans sought chiropractic care last year alone. Past studies have indicated that consumers are very happy with the chiropractic care they receive. With a thorough knowledge of the structure and functioning of the human body, Dr. Wehrspan will make a diagnosis and take steps to correct problems using spinal adjustments, dietary and lifestyle advice, and other natural tools. Spinal manipulation—the primary form of treatment performed by doctors of chiropractic—is a recommended option for back pain treatment, rated as such by many state and workers' compensation guidelines. Research has shown that manipulative therapy and spinal manipulation are not only safe and effective, but can cut costs and get workers back on the job faster than other treatments. A recent medical study has also pointed out that manual manipulation offers better short-term relief of chronic back pain than medication.
Top 10 Most "Back Breaking" Jobs
In a recent informal survey, the following occupations were found to cause the most stress and strains on the muscles of the back.
10. Auto mechanics work in physically awkward positions all day long—bending over cars, sliding under cars, etc.
9. Nursing home workers have to lift elderly people into and out of bed. The workers' bodies can become twisted and off-center.
8. Delivery drivers are always running, often carrying heavy and awkward packages. Packages shipped via UPS, FedEx, etc., have increased in weight over the years. The job also involves a lot of driving.
7. Firefighters/EMTs deal with fire, water pressure from hoses and have to chop obstacles with an axe. They often carry people to safety, which is particularly difficult if the victim is obese or incapacitated.
6. Shingle roofers are always twisting their bodies.
5. Farmers lift heavy equipment and bags of feed and grain. When doing fieldwork, they have to constantly turn backward to watch equipment that is pulled behind a tractor.
4. Police officers sit in their cars for long periods of time, which is rough on the lower back. When called into action, they have to make sudden movements and often face resistance from those they are arresting. Police officers also wear belts that can weigh up to 40 pounds, which can cause chronic back pain.
3. Landscapers lift heavier objects than any other profession. Wheelbarrows can twist and turn, wrenching the workers' backs.
Neck Pain
Your neck, also called the cervical spine, begins at the base of the skull and contains seven small vertebrae. Incredibly, the cervical spine supports the full weight of your head, which is on average about 12 pounds. While the cervical spine can move your head in nearly every direction, this flexibility makes the neck very susceptible to pain and injury. The neck's susceptibility to injury is due in part to biomechanics. Activities and events that affect cervical biomechanics include extended sitting, repetitive movement, accidents, falls and blows to the body or head, normal aging, and everyday wear and tear. Neck pain can be very bothersome, and it can have a variety of causes. Here are some of the most typical causes of neck pain:
Injury and Accidents: A sudden forced movement of the head or neck in any direction and the resulting "rebound" in the opposite direction is known as whiplash. The sudden "whipping" motion injures the surrounding and supporting tissues of the neck and head. Muscles react by tightening and contracting, creating muscle fatigue, which can result in pain and stiffness. Severe whiplash can also be associated with injury to the intervertebral joints, discs, ligaments, muscles, and nerve roots. Car accidents are the most common cause of whiplash.
Growing Older: Degenerative disorders such as osteoarthritis, spinal stenosis, and degenerative disc disease directly affect the spine.
Osteoarthritis, a common joint disorder, causes progressive deterioration of cartilage. The body reacts by forming bone spurs that affect joint motion.
Spinal stenosis causes the small nerve passageways in the vertebrae to narrow, compressing and trapping nerve roots. Stenosis may cause neck, shoulder, and arm pain, as well as numbness, when these nerves are unable to function normally.
Degenerative disc disease can cause reduction in the elasticity and height of intervertebral discs. Over time, a disc may bulge or herniate, causing tingling, numbness, and pain that runs into the arm.
Daily Life: Poor posture, obesity, and weak abdominal muscles often disrupt spinal balance, causing the neck to bend forward to compensate. Stress and emotional tension can cause muscles to tighten and contract, resulting in pain and stiffness. Postural stress can contribute to chronic neck pain with symptoms extending into the upper back and the arms.

Chiropractic Care of Neck Pain
During your visit, Dr. Wehrspan will perform exams to locate the source of your pain and will ask you questions about your current symptoms and remedies you may have already tried. For example:
When did the pain start?
What have you done for your neck pain?
Does the pain radiate or travel to other parts of your body?
Does anything reduce the pain or make it worse?
Dr. Wehrspan will also do physical and neurological examination. In the exam, Dr. Wehrspan will observe your posture, range of motion, and physical condition, noting movement that causes pain. He will feel your spine, note its curvature and alignment, and feel for muscle spasm. A check of your shoulder area may also be in order. During the exam, the doctor may test your reflexes, muscle strength, other nerve changes, and areas of spreading pain.
Chiropractors are conservative care doctors; their scope of practice does not include the use of drugs or surgery. If Dr. Wehrspan diagnoses a condition outside of this conservative scope, he will refer you to the appropriate medical physician or specialist.
Neck Adjustments
A neck adjustment (also known as a cervical manipulation) is a precise procedure applied to the joints of the neck, by hand or by a hand held instrument. A neck adjustment works to improve the mobility of the spine and to restore range of motion; it can also increase movement of the adjoining muscles. Patients typically notice an improved ability to turn and tilt the head, and a reduction of pain, soreness, and stiffness. Dr. Wehrspan will develop a program of care that may combine more than one type of treatment, depending on your personal needs. In addition to manipulation, the treatment plan may include mobilization, massage or rehabilitative exercises, and activity modification among other suggestions.
Research Supporting Chiropractic Care for Neck Pain
One of the most recent reviews of scientific literature found evidence that patients with chronic neck pain enrolled in clinical trials reported significant improvement following chiropractic spinal manipulation. As part of the literature review, published in the March/April 2007 issue of the Journal of Manipulative and Physiological Therapeutics, the researchers reviewed nine previously published trials and found "high-quality evidence" that patients with chronic neck pain showed significant pain-level improvements following spinal manipulation. No trial group was reported as having remained unchanged, and all groups showed positive changes up to 12 weeks post-treatment.
Headaches
If you have a headache, you're not alone. Nine out of ten Americans suffer from headaches. Some are occasional, some frequent, some are dull and throbbing, and some cause debilitating pain and nausea. What do you do when you suffer from a pounding headache? Do you grit your teeth and carry on? Lie down? Pop a pill and hope the pain goes away? There is a better alternative. New research shows that spinal manipulation – the primary form of care provided by doctors of chiropractic – may be an effective treatment option for tension headaches and headaches that originate in the neck. A report released in 2001 by researchers at the Duke University Evidence-Based Practice Center in Durham, NC, found that spinal manipulation resulted in almost immediate improvement for those headaches that originate in the neck, and had significantly fewer side effects and longer-lasting relief of tension-type headache than a commonly prescribed medication. Also, a 1995 study in the Journal of Manipulative and Physiological Therapeutics found that spinal manipulative therapy is an effective treatment for tension headaches and that those who ceased chiropractic treatment after four weeks experienced a sustained therapeutic benefit in contrast with those patients who received a commonly prescribed medication.
Headache Triggers
Headaches have many causes, or "triggers." These may include foods, environmental stimuli (noises, lights, stress, etc.) and/or behaviors (insomnia, excessive exercise, blood sugar changes, etc.). About 5 percent of all headaches are warning signals caused by physical problems. Ninety-five percent of headaches are primary headaches, such as tension, migraine, or cluster headaches. These types of headaches are not caused by disease. The headache itself is the primary concern. "The greatest majority of primary headaches are associated with muscle tension in the neck," says Dr. George B. McClelland, a doctor of chiropractic from Christiansburg, VA. "Today, Americans engage in more sedentary activities than they used to, and more hours are spent in one fixed position or posture. This can increase joint irritation and muscle tension in the neck, upper back and scalp, causing your head to ache."
What Can a Doctor of Chiropractic Do for Headaches?
Dr. Wehrspan may do several things if you suffer from a primary headaches. He may perform spinal manipulation or chiropractic adjustments to improve spinal function and alleviate the stress on your system. He will offer advice on posture, ergonomics (work postures), exercises and relaxation techniques. This advice can help to relieve the recurring joint irritation and tension in the muscles of the neck and upper back.
"Doctors of chiropractic undergo extensive training to help their patients in many ways – not just back pain," says Dr. McClelland. "They know how tension in the spine relates to problems in other parts of the body, and they can take steps to relieve those problems."
Dr. Wehrspan will talk to you about other ways to improve your lifestyle. He is trained and licensed to examine and treat the entire body with specific emphasis on the nervous and musculoskeletal systems. He can help you lead a healthier and happier life.